Hyacinth here, dears. I thought that maybe you could benifit from my expertise when it comes as to what magazines are socially acceptable.


Here are two wonderful Gardening magazines that Richard reads faithfully . It gives him great ideas on how to make his Garden a "blaze of petal glory", not that Richard doesn't have his own creative ideas, but he does need help now and then, especially when I'm not around to help him, such as when I'm rehearsing with my dear neighbour Emmett. He runs the Amateur Operatic Society
and is well known in music circles. He relies on me, so.



This magazine has great recipes and nibblets for a wonderful Outdoor-Indoor Luxury Barbecue and Finger Buffet or Pre-Luncheon Cocktails as well as my many other wonderful formal and informal functions. I read it faithfully and enjoy all the recipes. Hmmm......maybe its time for another one of my talked about Candlelight Suppers.



Now that Richard and I have our own home in the country, we have started reading this magazine. It's just sort of magazine the people of the country set read. It's our duty to become proper people of the country set, so that we can mingle. You'll never see Richard and I dress inappropriately in country. We always dress the part.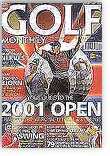 Richard reads this magazine right before he goes out for a chucker of Golf. He's practically a fanatic. He's been golfing numerous times with Frosticles. Someday he may be offered a Senior position with the firm. I was once offered the same position, but of course I decided to decline. Richard would be so lonely without me.